Royal Shrewsbury Hospital mortuary in £1.4m upgrade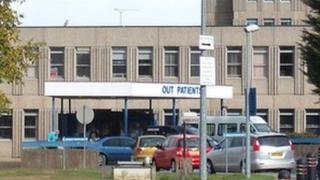 A hospital mortuary is being upgraded at a cost of £1.4m, partly to help it cope with an increasing number of obese people.
Equipment at the mortuary was "old and needs replacing", the Royal Shrewsbury Hospital said.
New waiting areas and chapels of rest have been proposed at the hospital, which was built in the 1970s.
The hospital said it had the facilities to provide a dignified environment but recognised it needed to provide more.
Head of communications Adrian Osborne said: "One of those upgrades... is recognising that as a society there are more and more people who are morbidly obese and here we're talking about the very highest end.
"The staff and the team here provide a great service but in quite outdated facilities.
"We want to make sure that (the mortuary) is meeting all of the demands needed of it in the future."