Paraglider Mark Dann recovering at home after US cliff crash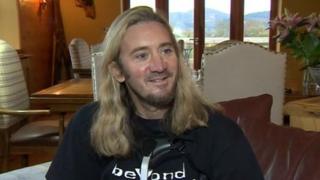 A paraglider who broke his back when he crashed into cliffs in California last month is recovering at his home in Shropshire.
Mark Dann had to be winched to safety by a helicopter after the accident in Torrey Pines, San Diego.
The 46-year-old, who damaged his lower vertebrae, said he would need several months of rehabilitation - but is making a good recovery.
Doctors used one of his ribs to fuse his vertebrae.
'Very silly'
He said: "Obviously, I'm a bit broken, but I'm recovering and getting better each day.
"It's miraculous really."
Mr Dann, who runs a paragliding adventure company in Melverley and goes to the US every year, crashed into the 100ft (30m) cliffs on the first day of his most recent US trip.
His wife, Rachel, said the weather conditions and flying when there was no breeze were likely causes of the accident.
Speaking afterwards, she told BBC News: "He was very silly, it was the unusual conditions.
"Normally, when you fly next to cliffs over the sea, there's a sea breeze but this time there wasn't and that caused problems."