Plans for 1,100 homes could mean more 'urban sprawl'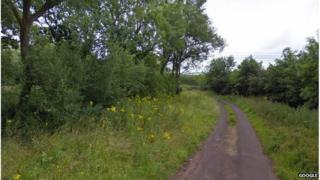 Plans for a housing development, which residents say could mean more "urban sprawl" for Shropshire, have been submitted.
The 1,100 home development is being proposed by Miller Homes for an area of farmland at Priorslee, near Telford.
Residents claim the plans will mean the loss of a rural community.
Miller Homes said it had consulted extensively over the plans which were "developed in consultation with local stakeholders" to address key concerns.
'Well-considered'
The proposals, which include a new primary school, shops and sports pitches, form part of Telford and Wrekin Council's Shaping Places scheme, which will see 8,000 homes built across the district.
The council wants to build 20,000 homes in Telford by 2031 and has already committed to 12,000 homes through existing planning permissions.
Kevin Turley, deputy manager of Lakeside Plant Centre, said 1,300 people had petitioned against the initial development, on six fields of agricultural land.
"The community are still not very happy about the plans," said Mr Turley. "The concerns relate to the huge volume of traffic and school capacity.
"You are looking at a lovely rural community becoming more urban sprawl."
Miller Homes, which has applied for outline permission, said the development was "well-considered".
"At a public consultation event held earlier on this year we received some very positive feedback," said Julie Morgan, strategic planning manager.