Eardington nature reserve plans at former quarry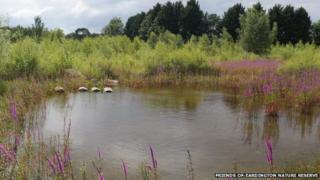 A disused quarry in Shropshire is being transformed into a nature reserve.
The sand and gravel quarry in Eardington, near Bridgnorth, closed two years ago and was taken on by Shropshire Council last year.
The site, which includes several rare species, has been awarded more than £18,500 by SITA Trust.
Area officer Edward Andrews said the money would be used to improve access, create pools and wetlands areas, put up fencing and remove trees.
An artificial sand martin nesting bank will also be installed.
"We've got old records of sand martins nesting here, so we hope we can attract them back," Mr Andrews said.
He said surveys had revealed the former quarry is home to several important species, including nationally rare types of hoverfly and solitary bees, as well as great crested newts and little ringed plover.
An official opening is expected to take place in the spring, although it will remain accessible to the public throughout the work, Mr Andrews said.
SITA Trust supports community and environmental improvement projects through the Landfill Communities Fund.