Dana prison in Shrewsbury to become homes and offices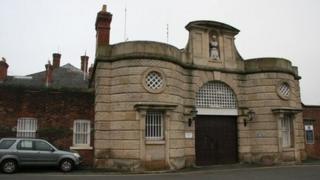 The former Dana prison in Shrewsbury is to be turned into a mix of homes and offices after being sold to a property developer.
The building closed in March 2013, with the loss of 190 jobs, as part of a reorganisation by the Ministry of Justice to save £63m.
The Osborne property group chairman Trevor Osborne said the building had been bought for a "seven-figure sum".
He said it was a "fascinating and historic" building.
"I'm always fascinated by the challenge of appropriate reuse without losing the integrity of the historic structure," he said.
The grade-II listed former prison, which was built in 1887, was put on the market in February.
English Heritage and some Shropshire councillors had suggested it could be turned into a hotel similar to a former prison in Oxford, which was also transformed by the Osborne Group.
"It was appropriate, I suppose, that the Department of Justice would think of me as a potential purchaser," added Mr Osborne.
Shrewsbury Conservative MP Daniel Kawczynski welcomed the purchase.
"The Osborne Group has considerable experience of working with historic buildings and I understand that this was a factor that was considered by my colleagues at the Ministry of Justice when they selected the preferred buyer," he said.
"I am confident that they will undertake the redevelopment of this iconic building to the highest standard and in a way that will preserve the history of its former use."
A Ministry of Justice spokesperson said: "We can confirm that we have exchanged contracts for the sale of the former Shrewsbury Prison to The Trevor Osborne Property Group.
"We have worked with a number of organisations, including the local authority and English Heritage, to ensure best value for the taxpayer from the sale."