Telford Women and Children's unit toilets cause sewage leak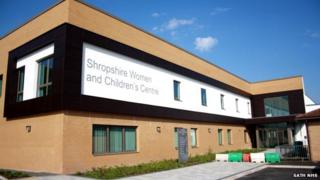 A sewage leak at a new £28m women and children's centre was caused by blocked pipes, a hospital has said.
The centre, at Telford's Princess Royal Hospital, opened in September.
A month later, parents reported sewage coming down the walls of the children's ward.
Shrewsbury and Telford Hospital Trust said it had been a "one-off incident", caused by bandages, wipes and sanitary towels being flushed down toilets.
The centre is the main base in Shropshire for children requiring an overnight stay, including those receiving cancer treatment and haematology care.
Cathy Smith, director of women and children's care at the trust, described it as a "wonderful" new building, but said there had been "teething problems", including blocked pipes and leaks from the heating system.
She said: "The new centre contains 103 toilets. People will know from their own experiences at home that toilets can become blocked.
"If you multiply that by 103 it gives you some idea of the challenges we are dealing with."
As well as trying to prevent people flushing inappropriate items she said the hospital was looking at ways to increase water flow and line older pipes.