Georgia Williams: Seventh officer faces inquiry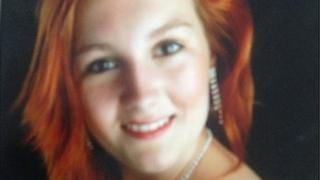 A seventh officer is to face a misconduct inquiry over dealings with a man who went on to kill a schoolgirl.
Jamie Reynolds strangled Georgia Williams in May 2012, four years after being cautioned by West Mercia Police for trying to strangle another teenage girl at his home.
Devon and Cornwall Police is examining the force's earlier dealings with Reynolds, of Wellington, Shropshire.
The seventh officer was given a misconduct notice last week.
In September, Devon and Cornwall Police said it had served six West Mercia officers with misconduct notices.
Reynolds, 23, killed Georgia, also from Wellington, in what was described as a "sexually motivated attack". He was told he would spend the rest of his life in jail.
CCTV images showed he went to a cinema in Wrexham on the way to dispose of the teenager's body. Her body was later found in woodland near Wrexham.
At the time of his arrest, he had 16,800 images and 72 videos of extreme pornography on his computer including images of women he knew in which ropes had been digitally added around their necks.
In a statement, Devon and Cornwall Police said: "All of the complainants are being supported and regularly informed of the progress of the investigation.
"Officers continue to carry out a thorough investigation and at this stage it would be inappropriate to comment further while enquiries are ongoing."