Shrewsbury train crash: 'Bridgeway line wrongly left open'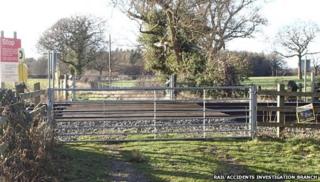 A train crashed into a welding trolley in Shropshire, narrowly missing a track worker, because the line was wrongly left open, a report has revealed.
The 85mph-smash happened at the Bridgeway crossing near Shrewsbury just before midnight on 16 January.
A Rail Accident Investigation Branch report said the worker, who advised a controller about which line to close, was misled by paperwork.
Network Rail said it would consider the agency's recommendations.
The report said the worker, who suffered minor injuries, had been loading tools into the trolley and only became aware of the approaching passenger train a few seconds before impact.
But it said he did not move the trolley, even once he realised the mistake, because he thought engineering work elsewhere meant the line was safe.
"The accident occurred because the trolley was placed on a line that had not been blocked to normal train operations," the report said.
"The controller of site safety had blocked the opposite line on the advice of the welder, who had been misled by the presentation of information in the paperwork describing the safety arrangements for the job.
"However, the welder later realised that the work was actually on the line that had not been blocked, but he still placed his trolley on that line believing that no train would approach because of engineering work taking place elsewhere in the area."
The Arriva Trains train, which had travelling between Crewe and Shrewsbury, suffered "significant damage" to its front and under frame, the report said.
There were three people on board - the driver, the conductor and one passenger, none of whom was injured. The train driver was treated for shock.
The report said decisions made in work planning and resourcing and the absence of relevant information contributed to poor decision-making by the track workers.
It made a number of recommendations to Network Rail including one relating to the way information is presented in paperwork.
In a statement, Network Rail said: "These will be considered carefully and we will take action as appropriate."