School markings painted outside home in Ruyton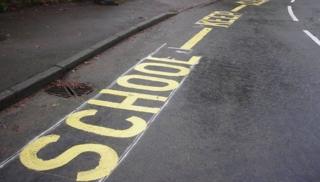 "Keep clear" markings intended for outside a Shropshire school have been accidentally painted outside a home instead.
The home in Ruyton-XI-Towns near Shrewsbury used to be the village school, but pupils moved out more than 10 years ago.
The notice in School Road should have been painted in Church Street, outside St John the Baptist primary school.
Shropshire Council said it was its contractor's mistake.
'Bizarre and funny'
St John the Baptist chair of governors Sarah Bayliss said there were already yellow markings outside the school entrance and no-one had asked for road markings to her knowledge.
"It is very clearly a house, there are no indication it's a school at all," she said. "Everyone I've spoken to about this finds it just bizarre and quite funny."
The new school opened in about 2001, she said.
A Shropshire Council statement said it was a genuine and unintentional error by the contractor.
"Now that this mistake has been highlighted we'll make sure that the markings are correctly painted outside the new school, and will arrange for the incorrect markings to be covered up," it said.
"The cost will be picked up by Shropshire Council's contractor, as it was their error."