Marathon runner Amy Hughes hits fundraising goal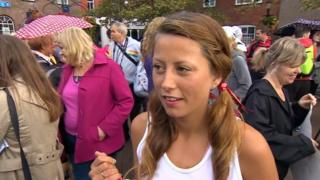 A woman who ran 53 marathons in as many days has reached her £53,000 fundraising goal.
Amy Hughes, 26, from Oswestry, completed her final marathon in Manchester in September after running more than 1,300 miles in all.
Since then, she has continued to raise money for the Isabelle Lottie Foundation, which supports families of children with brain tumours.
The target was reached thanks to a charity auction in Oswestry.
'Amazing cause'
"The support from people has been fantastic. When I finished the runs in September we were on £21,000, so we've jumped massively since then," Ms Hughes said
"It's such an amazing cause. I'm so pleased to be able to tell them I've been able to raise the money I said I would."
She is now compiling evidence to send off to Guinness, in support of her world record claim for the most marathons run on consecutive days.
Ms Hughes said she was also planning for her next running challenge, in support of the British Ironworks Centre's Save A Life Surrender A Knife campaign.
"It could be running in different cities again, but we've yet to work it out. I'll definitely be doing something with them though," she said.
The campaign team, which earlier this year unveiled a giant gorilla built from spoons, is planning to create a sculpture of an angel, made from knives handed in by former gang members.