Shrewsbury River Severn flood warning downgraded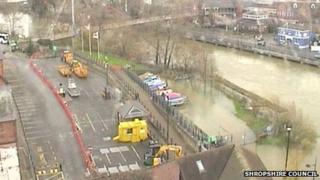 A flood warning for Shrewsbury has been downgraded to a less serious alert.
The Environment Agency said levels on the River Severn had now peaked at the Welsh Bridge and were falling steadily.
River levels are still rising in Ironbridge and Bridgnorth but are not expected to cause problems.
Flood defences remain up in Frankwell, in Shrewsbury, but parts of the car park have now reopened, Shropshire Council said.
The Met Office said further rain was forecast across Shropshire for the rest of Sunday but was expected to clear up on Monday.
Hundreds of homes were left without water after a main burst on Roman Road on Saturday night.
Several businesses on nearby Hereford Road were also flooded.
"It's the third time it's happened to us now. The water's gone completely through the garage, it's wrecked just about everything in the garage," said Dave Simkiss, from EA Downes Garage.
"It's pretty horrific. It's coming up to a foot to 15 inches deep.
"A lot of our electrical equipment like welders and all the MOT equipment's under water."
Severn Trent said it had received about 700 calls from customers.
A spokesperson said all homes had now been reconnected.
The firm said its loss adjustors would also be in touch with the affected businesses.