Ebola doctor Martin Deahl returns to work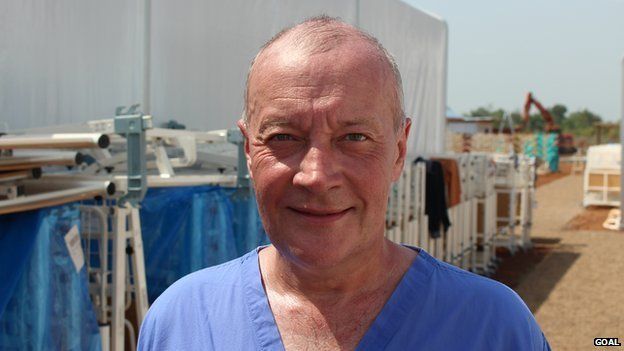 A doctor who travelled to Sierra Leone to help treat Ebola patients has returned to work in Shropshire.
Dr Martin Deahl, returned to the UK last month but has spent the last three weeks monitoring his health at home in Newport.
He spent a month in Africa as part of an NHS team helping to tackle the spread of Ebola.
Mr Deahl described the work as "the opportunity of a lifetime", but said he had struggled since his return.
"We could see ourselves making a difference at first hand and people who for all intents and purposes should have died and were as ill as could be, recovered," he said.
"By the time we left we had 30 patients in the centre. Five died, sadly, but five were discharged entirely well."
Mr Deahl travelled back to the UK with nurse Pauline Cafferkey, who subsequently contracted Ebola.
Last week, London's Royal Free Hospital said she was "showing signs of improvement".
He said while her illness had affected the team, most of them would return to Sierra Leone if given the chance.
However, he said the pressure on families had been great, even since returning home.
"It was wonderful [seeing family], but odd, not being able to hug them or touch them. I've effectively slept in another part of the house and used a separate bathroom."
Mr Deahl said the fear of Ebola meant he had written to parents at his daughter's school to reassure them children were not at risk.
Even since being given the all clear and returning to work as a consultant psychiatrist on Monday, he said some patients had been anxious.
"Regardless of the rules and the quarantine, there's a lot of fear, understandably, about this condition," he said.
"I've had people step back and others give me a hug, probably in equal measure."
While not ruling out a return to Africa, he said he was more likely to help train others.
Related Internet Links
The BBC is not responsible for the content of external sites.