Long Mynd snow gates 'are working'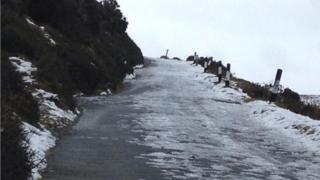 "Snow gates" installed to stop motorists crossing Shropshire's Long Mynd during adverse weather conditions "seem to be working", a ranger says.
Shropshire Council recently put gates at the three main entrances to the seven-mile (11km) hill which reaches nearly 1,700ft (520 metres).
National Trust ranger Dave Cowell said they had been shut for a week and there was no evidence cars had tried to pass.
He said warning signs had often been ignored, leading to regular rescues.
Mr Cowell, a ranger on Long Mynd for 20 years, said usually at least six vehicles were rescued by the fire service at the site every winter.
"The problem is the first 200 metres look OK, but then you encounter snow and ice and can get stuck," he said.
Gates, which are unlocked, have been installed on the most popular route, Burway Road, as well at Ratlinghope and Asterton Bank.
They are closed by rangers and volunteers working with the council during adverse weather.
Mr Cowell said tourists exploring the area as well as residents taking a short cut tended to cross Long Mynd.
"People forget the road has no crash barrier and if they come off the road they have got about a 400ft drop," he said.
He said during the Christmas holidays the Burway Road gate was left open and five vehicles had to be led down by fire crews, suggesting the gates were a good deterrent.