Collapsing Shropshire heritage mine 'safe' for visitors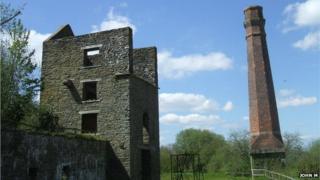 A "unique" historical site in Shropshire that was in danger of "serious collapse" has been made safe for visitors, a heritage group says.
Tankerville, a Victorian lead mine which helped power the industrial revolution, has been stabilised thanks to a £138,000 English Heritage grant.
English Heritage said the site had been in a "perilous state".
The Shropshire Mines Trust, which maintains the site, said it had been "relieved" to get the funds.
'Saved for the nation'
The site, which includes an engine house and chimney, a mine shaft and reservoir, was previously on English Heritage's "at risk" register.
Bill Klemperer, principal inspector of ancient monuments in the region, said: "The Shropshire lead ore field was quite small but it was really productive.
"This is one of the best-preserved sites in the field but it was in a perilous state.
"It has now been saved for the nation.
"It's one of the few places where there are enough buildings left so that people can understand what happened on the site.
"It tells the story of Shropshire's important industrial heritage."
Leading the way
Mining has taken place in the area since Roman times
By the middle of the 19th Century, Shropshire was producing 10% of the nation's lead
In 1879, 171 people worked at Tankerville
Mining stopped at the site in 1884, but processing continued until 1925
The grant funded a two-year project that enabled the mines trust to carry out urgent repairs and some archaeological work and make the site accessible to the public.
The trust said public access was previously restricted.
Mike Worsfold, a director of the trust, said Tankerville was "a very rich mine for a very short time".
"We were very pleased to receive the funding," he said. "It was a great relief for the trust, as we had been working since 1996 to save this site, which was in a really bad state of deterioration."