Wem level crossing barriers fail to close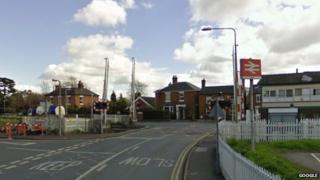 Level crossing barriers failed to close when trains ran through a Shropshire town at the weekend.
A photo was posted on Twitter, with a number of people questioning the safety of drivers and pedestrians as the automatic barriers failed to activate in Wem on Sunday evening.
Network Rail said the problem was caused by a sign blocking the barriers.
Witness Lindsey Bannister said it was "scary" and there was "nothing stopping people from driving across".
She said she was part of a long queue of traffic that had stopped at the crossing red lights at about 20:15 GMT on Sunday.
"All it would need is for one impatient person to have took a chance and it could have been a serious accident," she said.
"The next thing I saw was a big old fashioned train, the type with curtains in the windows and lamps on the tables, and it came through quite slowly, with the barriers still up.
"One of the guards on the train was hanging out of the window looking at the crossing as they went past."
Unmanned crossing
Network Rail said the problem was caused by a temporary road diversion sign on the crossing which was picked up by sensors.
"The barriers are designed to remain raised if something is detected beneath them, and the equipment is designed to stop the normal movement of trains if any object is detected on the crossing," the firm said.
"In this situation, the driver of each train is automatically stopped before getting to the crossing.
"Train drivers are then allowed to continue very slowly at caution with the specific instruction to only proceed over the crossing if it is clear to do so, the red flashing lights are operating and road traffic is not moving.
"This is in line with standard industry processes for safe operation."
The automatic system attracted criticism from some local people when it replaced a manned crossing in 2013.
At the time, some residents questioned the safety of the system, monitored remotely from Cardiff.
In previous years, Wem has been named by Network Rail as one of the worst crossings in the country for people ignoring red lights.