Car crashes into Oswestry shop and causes gas leak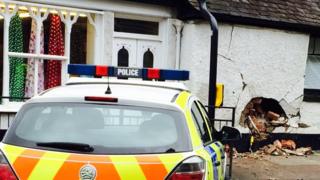 A car has crashed into a shop, fracturing a gas main and causing town centre homes and businesses to be evacuated.
The car hit the building in Church Street, Oswestry, Shropshire, when it was involved in a collision with a lorry at 08:30 GMT.
Firefighters said when they arrived there was a strong smell of gas.
A 200m (220 yards) cordon was set up by West Mercia Police around the pipe as a precaution.
Nobody was hurt in the collision and the road reopened to traffic later in the afternoon.
The Wynnstay Hotel was one of a number of businesses to be evacuated.
Its general manager Sebastian Siddi said guests and staff had been accommodated by a nearby restaurant until police cleared them to return.