Wellington Clifton cinema: Councils back rescue bid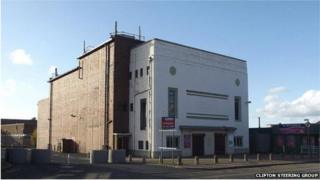 Two councils are backing a community bid to transform a former Shropshire cinema into an arts venue.
The Clifton cinema in Wellington, Shropshire, closed in 1989 and was used as a furniture store until Dunelm Mill moved out in 2012.
The Save the Clifton group plans to turn it into an arts venue, funding it by selling community shares.
Two councils - Telford & Wrekin and Wellington - said they had formed a partnership group to support the bid.
The councils said they were looking at "all possibilities to save the building" and would help the Clifton group develop "a robust business plan".
'Project with teeth'
Shaun Davies, a cabinet member from Labour-run Telford and Wrekin, said: "The Clifton is an iconic building and there are many people in the community who would love to see it brought back into use as a community arts venue."
Angela McClements, ward councillor for Arleston said the Clifton could be a "fantastic" community facility but only if "it stood on its own two feet".
The group currently has just under 600 shareholders and has raised £31,000. It estimates the site will cost £500,000 and says it has several grant applications under consideration.
"If we have the support of the councils, hopefully the funding bodies will start to see we must be a project with teeth," said Fiona Hunter, from the group.