£2m 'to relocate two Whitchurch GP surgeries'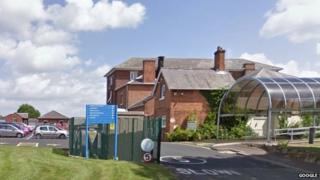 More than £2m of government funding will go towards moving two GP surgeries in Shropshire into a nearby empty hospital ward, health bosses say.
Richmond House surgery and Bridgewater Family Medical Practice are set to relocate to Whitchurch Community Hospital.
The ward will be used as a GP surgery and hospital outpatient services.
Shropshire Community Health NHS Trust said it was "great news" for patients, the GPs and the hospital.
'Hospital could expand'
Jan Ditheridge, the trust's chief executive said: "We are absolutely delighted we will now be working even more closely together in Whitchurch."
The hospital ward has been empty for almost four years.
The money is part of plans announced by the Department of Health on Friday, which will see almost £40m invested in the NHS in the West Midlands next year, to improve GP access, modernise surgeries and improve out-of-hospital care.
Dr Martin Sullivan, from Richmond House, said he felt the relocation plans would secure the future of the hospital and could see it expand.
"The hope is that it's a dynamic process and it depends on what political pressures there are and what people want from services."