Shrewsbury River Severn safety call after drowning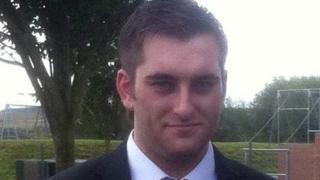 Safety gates where a man entered the River Severn and drowned should have been closed, an inquest has heard.
Daniel Hodgin, 20, from Madeley, disappeared on 23 November after a night out at the Buttermarket nightclub in Shrewsbury, prompting a search involving hundreds of volunteers.
His body was found near Cressage on New Year's Eve.
The Shropshire Coroner John Ellery recorded a verdict of accidental death by drowning.
However, he said Mr Hodgin probably entered the water where the riverbank should have been secure.
Mr Ellery said he would write to Shropshire Council and the Environment Agency to make sure the gate by the weir in Dorset Street is closed when river levels are high.
Safety improvements
The gate leading down to the towpath is usually locked when the river reaches 1.95m.
On the night Mr Hodgin is thought to have entered the water it was believed to be between 1.99m and 2m high, but the gate was not locked.
Tim Sneddon, operations manager for environmental maintenance at Shropshire Council, told the inquest they were reliant on information from the Environment Agency.
In a statement, Mr Hodgin's mother Lorraine Firmstone told the inquest: "Words cannot describe how, as a parent, you feel when you don't know where your child is and the thought that he might never walk through the door again."
A Facebook campaign calling for safety improvements in the wake of Mr Hodgin's death has attracted more than 5,000 "likes".
Shropshire Council said it had made improvements in the area, including introducing railings in key areas and clearing trees from around street lights.
It said life buoys and the towpath itself were regularly inspected.
An Environment Agency spokesman said it would "co-operate fully with this inquiry".