'Arsonists' target Wellington park pavilion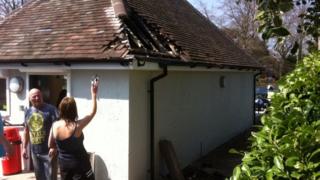 A park pavilion that reopened after £90,000 revamp less than a month ago has been damaged in a suspected arson.
The building, in Bowring Park, Wellington, was built in the 1920s and now serves as a cafe.
It is the third fire at the venue. It burnt down in 2012 due to an electrical fire and was targeted by arsonists in 2014, less than a week after reopening.
Shropshire Fire and Rescue said crews were called at 23:22 BST on Monday. The fire is being treated as suspicious.
A spokesperson said the tiles on the roof of the single-storey building had been removed and the felt deliberately set alight.
The pavilion reopened last month after a £90,000 refurbishment, funded by the town and borough council.