Pontesford Hill bought after community appeal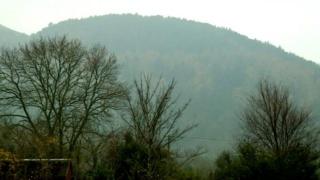 A hill in Shropshire has been bought for more than £200,000 after a community fundraising campaign.
More than 1,000 people contributed to the Pontesford Hill appeal, led by Shropshire Wildlife Trust.
The trust first attempted to purchase it in 2010 but it was eventually sold to a private buyer who planned to develop it into a burial ground.
John Hughes, from the trust, said the latest deal would protect the hill for the local community and wildlife alike.
'Local landscape'
Pontesford Hill, outside Pontesbury, is not expected to become a dedicated nature reserve, unlike nearby Earl's Hill, but Mr Hughes said there were plans to encourage wildlife.
Colin Preston, chief executive of the trust, said the private landowner had been "happy" to sell the land because of its importance to the community.
"He gave us five months to raise the money, which was good of him," he said.
Mr Preston said there were a number of footpaths that crossed the site and walkers had enjoyed the location "for generations".
"We plan to manage it as an area for nature and for visitors," he said. "We plan to talk to visitors about what they would like to see there."
He said the trust would also survey the rich grassland that he believes contains many rare plants.
"It has been absolutely phenomenal. To have raised this money in just five months demonstrates how deeply people care about their local landscape," Mike Mortimer, chairman of the Friends of Pontesford Hill, said.
The fundraising campaign is ongoing.
It hopes to raise a total of £265,000 to not only cover the £207,500 price tag for the 940-year lease, but also ongoing management and maintenance costs.