Wyre Forest woodland cleared for rare butterfly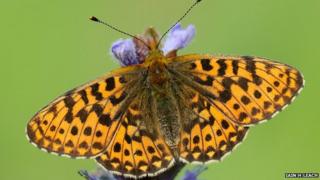 Two areas of a Shropshire woodland have been cleared in an attempt to help the survival of a rare butterfly.
Wyre Forest is home to a colony of the nationally scarce Pearl-bordered Fritillary.
The Butterfly Conservation charity said parts of the wood were becoming too shady for butterfly food plants and nectar sources.
A team of six tree surgeons have spent three days clearing the Kinlet and Wimperhill areas of the forest.
The charity said numbers of the Pearl-bordered Fritillary have been in decline since the 1950s, making it one of the country's most endangered butterflies.
The clearance is also expected to provide a better habitat for the adders living in the forest.