Mountaineer plans to join Nepal earthquake relief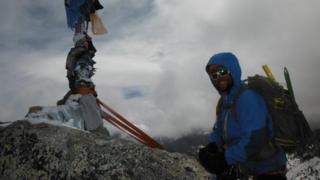 A British mountaineer caught up in the earthquake in Nepal says he plans to help with the relief effort.
More than 3,500 people are now known to have died in the 7.8 magnitude earthquake.
Dozens of Britons are missing after the earthquake struck on Saturday.
Climber Gareth Douglas, 37, of Bridgnorth, Shropshire, said he was stranded at Everest's north base camp, but was hoping to make his way to Kathmandu.
Writing on Facebook, he said some of the group had planned to join a British army team going to the capital city, but many of the surrounding roads had been destroyed.
"All we can do is sit tight and wait for more news," he said.
His father, Steve Douglas, from Albrighton, Shropshire, said his son was "in good spirits".
He said: "Gareth was with a team attempting the north face.
"He said there were rocks crashing around (them)... He said there were boulders the size of cars coming within a very short distance of them, 100 metres or so. He's stressing they were very, very lucky."