Ironbridge Gorge engineers undergo fast-water training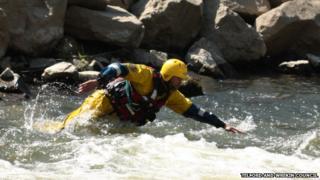 Engineers reinforcing the banks of the River Severn are undergoing swift-water training ahead of starting the next stage of the work.
The £17.6m Jackfield stabilisation project is part of efforts to preserve Ironbridge Gorge world heritage site.
Parts of the site, in Shropshire, are starting to slide into the river, and the banks will be reformed over the summer.
Workers are being taught how to work safely in rapidly moving water.
Neal Rushton from Telford and Wrekin Council said the work would include placing large boulders on to the bank into the river channel.
About 75% of the piles needed to stabilise the nearby hillside have already been installed.
Ironbridge, considered the birthplace of the industrial revolution, is the location of the world's first iron bridge.