High River Severn levels stop Shrewsbury Regatta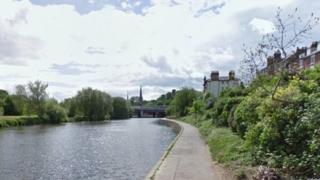 A boat racing event in Shropshire has been cancelled over fears of high water levels on the River Severn.
Organisers of the Shrewsbury Regatta said they made the decision after advice from the Environment Agency and the Met Office about heavy rain fall.
The 144-year-old event was due to take place on Saturday and Sunday. The race has only been cancelled once before.
Pengwern Boat Club Chairman Chris Jarrett said it was "unfortunate" but safety was paramount.
"We've been monitoring the situation with the Environment Agency and the Met Office.
"The predictions they have made are coming true, that we are going to have heavy rain," he said.