Ludlow rector to become Archdeacon of Europe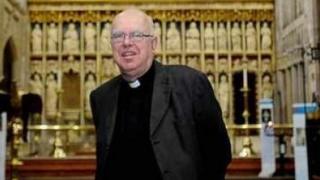 The Rector of Ludlow has been appointed as the new Archdeacon of Europe.
Colin Williams has been rector since 2010 and looked after 17 churches in the area, a spokesman for the Parish of St Laurence's, in Ludlow, said.
He will start his new role as Archdeacon of Germany, Northern Europe and Archdeacon of the East in September.
The former solicitor said it had been a "great privilege" to serve as rector and he would be sad to leave.
His promotion will see him relocate to Frankfurt to oversee congregations over hundreds of miles in numerous countries.
Mr Williams has previously been Archdeacon of Lancaster, and he served for five years as General Secretary of the Conference of European Churches, based in Geneva.
"I am very grateful for the friendship and support which has been shown to me throughout the town and the surrounding villages," he said.
"I shall leave Ludlow with a sense of sadness but, at the same time, I feel myself enormously privileged to have been entrusted with pioneering to this new and challenging post in the service of the Church of England's chaplaincies across the European mainland."
The Bishop of Hereford, Richard Frith, said Mr Williams had been a faithful servant and much loved member of the community
"Colin has been a faithful servant, gentle pastor and much loved member of the community of the market town of Ludlow; on my recent visit I observed, first hand, the significant esteem in which he is held within the town.
"I am sorry he is leaving, but I fully appreciate that he is absolutely the right man for the job he's going to."