Shropshire pub's 'German porn' sign taken down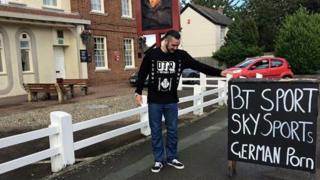 A Shropshire landlord has had to remove a street sign with the words "German porn" on it after a complaint.
The sign outside the Monkmoor Pub, Shrewsbury, was put up on Tuesday.
On its Facebook page, the pub said: "I think some people should get a sense of humour but very sorry for any offence caused."
Shrewsbury town councillor Miles Kenny reported the sign to the police when a member of the public brought it to his attention.
"I was not unhappy about it, I just queried it," he said.
"It was just a bit of a laugh but if a member of the public has been offended something has to be done", he said.
The sign read: "BT Sport, Sky Sports, German porn."
Insp Graham Preece, from West Mercia Police, said: "There are conditions on the pub's licence which states they cannot have certain types of entertainment at the premises.
"We made contact with the licensee who reassured us it was light-hearted and no offence was intended. The premises have now removed the sign."