Shropshire Council leader Keith Barrow breaches code of conduct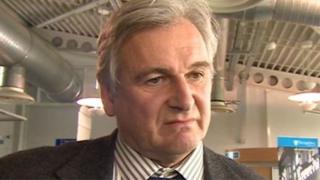 The leader of Shropshire Council did not declare a relationship with the director of an accountancy firm appointed to work with the authority's private company.
Keith Barrow has apologised and resigned as director of IP&E after the findings of an internal investigation.
Mr Barrow, who leads the Conservative-run authority, accepted he had failed to comply with its code of conduct.
He will receive training and there will be no formal hearing, the council said.
IP&E, which stands for inspiring partnerships and enterprise, is owned by Shropshire Council.
More on this story and updates from Shropshire
It provides a number of services, including the authority's communications and marketing.
Mr Barrow did not declare a personal and business relationship with the director of a firm which handles IP&E's accounting and auditing.
A council statement said: "An investigation into an allegation about the conduct of Councillor Keith Barrow has concluded he failed to comply with the Code of Conduct of Shropshire Council by failing to formally disclose a conflict of interest at meetings of the Board of IP&E Ltd."