Shropshire Clinical Commissioning Group sees £11m deficit grow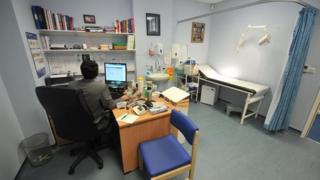 A GP-led trust put into special measures over its deficit has seen its financial position worsen.
Shropshire Clinical Commissioning Group is £14m in the red, which is beyond the £11m it had agreed with NHS England.
NHS England said the "further deterioration" in its finances in the last quarter of 2015/16 was despite it giving the trust "significant support".
It has issued the CCG with "directions" which will give it a closer oversight of the group.
Shropshire's CCG consists of the 44 GP practices that serve the county.
Clinical commissioning groups are GP-led organisations responsible for commissioning healthcare on behalf of patients. They replaced primary care trusts in England in April 2014.
An NHS England spokesman said: "It is essential that the people of Shropshire have confidence in the performance of the CCG and that it will continue to commission safe, sustainable health services now and in the future."
The directions - the next step if special measures fail to achieve sustained improvement - mean the CCG will co-operate with NHS England on a plan "to help manage its financial recovery" and the appointment of senior executives.
In response to the directions, the current accountable officer at Telford and Wrekin CCG, David Evans, has also been appointed to manage accounts at Shropshire CCG.
Shropshire CCG said both groups will remain as separate statutory organisations with their own governing bodies, and has welcomed the move.
Areas under review have included the way drugs are prescribed and reducing the number of inpatient admissions.
---
The directions to Shropshire CCG include:
It must appoint a 'turnaround director'
It must appoint an 'accountable director'
Co-operate with NHS England over the appointment of anyone to its senior management team
Produce a financial recovery plan to "show how it will work within its budget"
---
The move has been welcomed by the Conservative MP for Shrewsbury Daniel Kawczynski, who praised NHS England for its "exceptional action" and move to "get a grip" on the situation.