Is Shropshire a UFO sighting hotspot?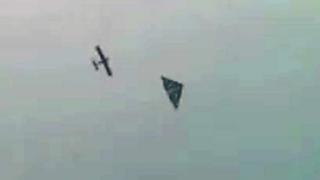 A mysterious flying triangle has been spotted in the sky over Shropshire in recent weeks - the latest of unexplained goings on stretching over decades. Is the county a hotspot for UFOs?
The "Flying Dorito" as it has become known, was spotted near Sleap Airfield, near Wem, and over The Wrekin, the Shropshire Star reported.
These sightings, the former described as an aircraft making a low humming noise, prompted Nigel Haymen to use Your Questions to ask us to investigate.
It is not the first time we have looked into what inhabits the skies above Shropshire - in 2010, actor John Challis joined BBC Inside Out to look for UFOs from Lyth Hill in Shrewsbury.
The town's UFO Investigations and Research Unit described the hill as a "high intensity" area for sightings at the time. But no flying objects appeared for our cameras.
Christian Delaney of the Shropshire Paranormal and UFO Society said he had seen UFOs over the county for a number of years.
"I've seen something yellow that looked like a cigar do a figure of eight over the Wrekin for three or four minutes getting faster and faster," he said.
"And on Lyth Hill one [a UFO] appeared and the light got bigger and bigger like it was expanding and then changed colour.
"I don't know what it is about Shropshire but they do seem to have quite a presence here," he said.
Former UFO investigator for the Ministry of Defence, Nick Pope, said: "Shropshire certainly seems to be something of a UFO hotspot.
"I personally investigated a fascinating wave of sightings in 1993, centred on RAF Cosford and RAF Shawbury," he said.
A meteorological officer at Shawbury described seeing a vast triangular-shaped craft flying slowly over the base, making a low-frequency humming sound, before suddenly accelerating away, many times faster than a military jet, he said.
Mr Pope said previous 'Flying Dorito' sightings may have been generated by people seeing the last airworthy Vulcan bomber which stopped flying last year. Or a B2 stealth bomber rarely flown in the UK.
"These two [recent pictures] might show a secret prototype aircraft or drone, though another less exciting possibility is that it's a hang glider or a power hang glider," he said.
Nathan Cross from Sleap airfield told the Shropshire Star the photo could have been of a Rutan VariEze aircraft at an angle.
"I know that one was flying at about the given time and I have spoken to the pilot who concurs," he said. "Or perhaps it is a genuine UFO - we will remain diligent."
A West Mercia Police spokesman said: "We've had no reports of UFOs over the Shropshire area since March of this year. In that case the report turned out to be a helicopter.
"Over the last few years we've had a total of four reports of UFOs within Shropshire, including the helicopter...none were suspicious."
Mr Pope said aircraft lights, weather balloons, meteors, satellites and Chinese lanterns can be mistaken for UFOs.
"People really do want to think there's something out there," he said. "Additionally, people's mistrust of government fuels conspiracy theories, and the idea that the authorities are covering up the truth about UFOs is a popular one.
"I should say that there's no smoke without fire, and that while the sceptics have to be right every day, the believers only have to be right once."
---
This story was inspired by a question from Nigel Haymen.