Ancient animal burial site at Shrewsbury church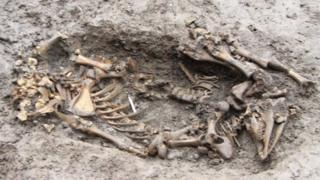 An archaeological dig at a Shrewsbury church has uncovered an ancient animal burial site.
Archaeologists said the finds, which include a calf, a pig and a dog that died while giving birth, were "unprecedented".
"It gets more and more bizarre with every moment," said lead archaeologist Janey Green.
The site is being investigated after Shropshire Council gave consent for housing adjacent to the church.
'Pit of skulls'
In total, two dogs, a calf, some birds and a pig were found on the site at the Greek Orthodox Church, on Oteley Road, along with the remains of an early medieval woman and a pit full of human skulls.
The pig was found with a leathered coffin, although Miss Green said further testing was needed to see if the animal was buried in the container.
The animals were found alongside medieval human remains. All of the finds will be reinterred by the church.
Garment pins - from the medieval period or earlier - were also discovered.
Miss Green, of Baskerville Archaeological Services, said the company had been working on the site for around six months but had uncovered the animals very recently.
"We didn't in our wildest dreams imagine we would find what we have," she said.
The company was called in as a condition of the planning consent given by Shropshire Council for homes to be built opposite.
"We have excavated foundations for the church that are very early medieval - and possibly Saxon," Miss Green said.
"But it is unprecedented to find such an array of different animals on consecrated ground."
She said she did not know why the animals were buried together and was working on a number of theories, including a possible link to a nearby Bronze Age site.
The remains will now be tested to determine their age before being re-buried on the site.