Shrewsbury and Telford hospital services close to new patients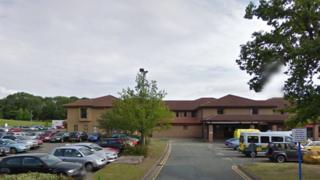 A cash-strapped hospital trust is closing services because of doctor shortages.
The Shrewsbury and Telford Hospitals NHS Trust is not accepting some new referrals in ophthalmology and spinal surgery, and is seeking to do the same in neurology and dermatology.
Existing patients are facing "excessive" waits for services.
The trust said it is now approaching neighbouring hospitals to see if they could treat the county's patients.
For more on this story and other news from Shropshire.
'Risk to patients'
The issues came to light at a health scrutiny committee meeting of Telford and Shropshire councils.
The trust, which runs the Princess Royal Hospital in Telford and the Royal Shrewsbury Hospital, said in a report that patients for its neurology outpatient appointments currently faced a 30 week wait for routine referrals and nine weeks for urgent referrals.
NHS guidelines say waits should be seven to nine weeks and two to four weeks respectively.
It said: "Clearly, there is a potential risk to patients" and proposed closing the service to new referrals from March 20.
It added that in dermatology and spinal services it had lost two specialist doctors with no notice and was unable to run the services effectively as a consequence.
'Worse state than thought'
Shrewsbury and Telford's deficit tops £8.4m, BBC Sunday Politics reported in November.
The trust's medical director Edwin Borman said: "We have approached trusts around us to try to make arrangements so our patients who need more urgent treatments do get them."
Andy Burford, joint chair of the councils committee, said the services were in a worse state than the authorities realised.
Gill George, Shropshire Defend our NHS chair, said: "The trust has not been forthcoming about the scale of the crisis that is taking place."
The Department of Health said it would not comment on individual hospitals.