Telford Princess Royal Hospital : Hundreds march over A&E downgrade plan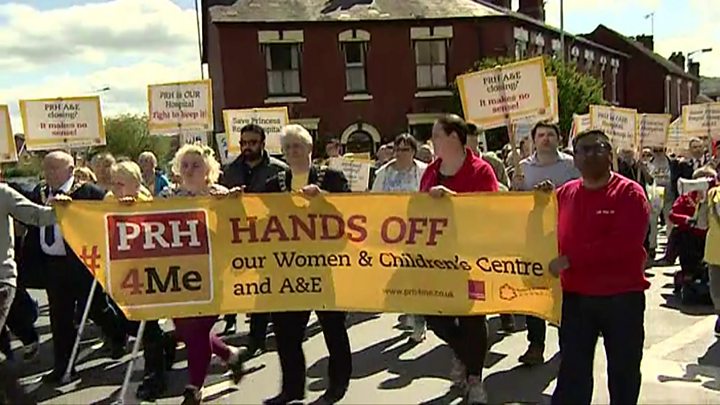 Up to 900 protesters took part in a march against proposals to downgrade a town's A&E department.
The unit at Telford's Princess Royal may be downgraded in favour of a single A&E for the county at Shrewsbury.
Telford and Wrekin Council leader Shaun Davies said hundreds of residents showed their "solidarity and support" for keeping services in Telford.
The hospital trust said the unit at Royal Shrewsbury Hospital would increase by 50% and attract more staff.
Shrewsbury and Telford Hospital NHS Trust also said there would be accident and urgent care centres at both hospitals which would be open 24 hours a day.
For more on this story and other Shropshire news
Shropshire's health care is being reviewed under the NHS Future Fit programme but the trust added "no final decision had been made" and there would be a full public consultation on the final proposals.
But campaigners say the proposals are unnecessary and could put lives at risk. Many also fear Telford's £28m women and children's centre, which opened two years ago, will close.
Labour-run Telford and Wrekin Council has said it would consider seeking a judicial review if the decision to close the services was confirmed.
Mr Davies said residents wanted to keep Telford's "24 hours a day seven days a week" accident and emergency department as well as a "fully functioning women and children's unit".
Protesters told the BBC the A&E was of "great benefit" the community and closing or downgrading the women and children's unit would be a "waste of money".