Shropshire Council leader Malcolm Pate voted out by own party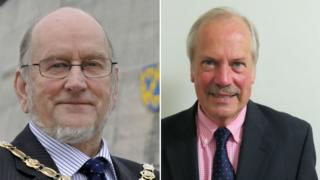 A local authority leader has been ousted after Conservative councillors voted him out in a secret ballot.
Malcolm Pate, who had been leader of Shropshire Council since 2015, will be replaced by Peter Nutting, who led the former Shrewsbury and Atcham Borough council for 10 years.
The change was voted in during a post-election meeting of Shropshire's Conservative councillors on Monday.
Mr Nutting said he was looking "to drive the local economy forward".
Latest stories from Shropshire
It is 16 months since Mr Pate, a former leader of Shropshire County Council, replaced Keith Barrow, who quit after admitting failing to declare a relationship.
Mr Nutting, who was re-elected in the recent local election in his ward of Copthorne, said: "There was nothing wrong with Malcolm, he did a decent job keeping the council steady over the past couple of years. I thank him for the work he did."
He added: "Many people didn't think he was the long-term future for the county and that we need to drive everything forward."
When asked about his relationship with the outgoing leader, he said: "I work as a deputy in his cabinet and we did have words, but that's the way of politics sometimes."
Peter Nutting's appointment is due to be confirmed at Thursday's first meeting of the new council.