Investigation into light aircraft crash in Shifnal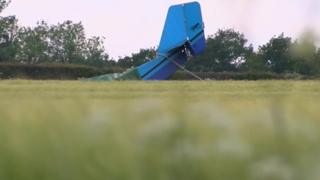 A light aircraft's flight seemed so troubled to witnesses that they phoned emergency services before it hit the ground, an accident report said.
The craft is thought to have entered a spin before it crashed in Shropshire, killing two occupants in May 2016.
According to the Air Accidents Investigation Branch (AAIB), it was seen descending with its nose pointing downwards almost 90 degrees.
An engine stoppage has not been ruled out.
The Rans S6 aircraft was on its way to Shifnal Airfield, having flown there from its base in Market Drayton, Shropshire.
Two people on board - pilot Tony Crocombe and passenger Michael Sumner - sustained fatal injuries in the crash in a field near the site.
Accident history
AAIB says 16 "Rans S6 accidents, involving stalls and/or spins, have been investigated in the UK" by the body since 1994.
"As a result," the report said, "the Light Aircraft Association (LAA) is conducting a review of accident data, on this and similar types of microlight, and a flight test program, to determine factors that may have contributed to this accident history".
The aircraft seemed to be trying to land at Shifnal Airfield before the crash, the report found.
It said while there were no conclusive findings from an engine examination, the "possibility of an engine stoppage" or power loss "could not be ruled out".
The pilot, according to the AAIB, had recently bought the aircraft and accrued about eight hours' flying time - and while piloting two earlier flights with the previous owner, control of the craft was taken over amid concerns about the craft's speed.
A post-mortem exam found no underlying disease in the pilot.