Driver charged over death of schoolgirl in Shrewsbury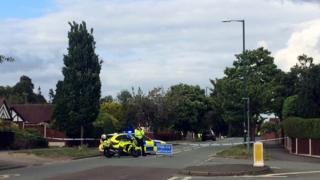 A driver has been charged with causing the death of an 11-year-old schoolgirl who was struck by a car in Shrewsbury.
Olivia Reeves was hit in Mytton Oak Road on 15 June and died in hospital after suffering serious head injuries.
Roger Thomas Goodall, 77, from Shrewsbury, is charged with causing death by dangerous driving, driving above the alcohol limit and failing to notify the DVLA of a medical condition.
Olivia was described by her school as "a passionate, spirited individual".
She was walking home from school when the crash happened.