Volunteer group buys Gobowen railway station buildings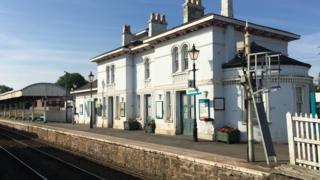 A volunteer group has successfully raised money to buy buildings at a Shropshire railway station.
The Gobowen Area Improvement Project needed to raise £150,000 to buy the buildings that date back to 1846.
Members of the group say it will cost more than £200,000 to restore the buildings to make them available for use again.
For the last 20 years the ticket office at Gobowen station along with the cafe, has been owned by a private company.
Sheila Dee, from The Gobowen Area Improvement Group, said: "The main aim for buying these buildings was to secure the tenure of the current tenants for the future and to make sure the station was here for the residents and commuters forever."
Ms Dee added that the group hope the buildings can be managed by local people.
Two buildings were up for sale, the ticket office on platform one and a unit, partially occupied by a business, on platform two.
The building's former owners, the John Lewis Partnership Pension Trust, delayed the sale for six months to allow the group time for fundraising.