Shrewsbury stalker impersonating police jailed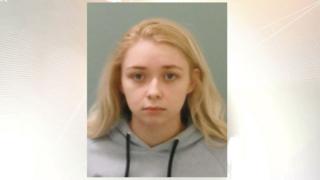 A stalker who engaged in "catfish-style behaviour", set up fake online accounts and impersonated a police officer has been jailed for nine months.
Lauren Adderley, 21, from Shrewsbury, manipulated her former partner's life by the ruse for two years.
It began when he agreed to help her report a historic sex offence, but she created fake accounts pretending to be officers and witnesses.
She admitted stalking and impersonating a police officer.
District crown prosecutor and domestic abuse lead with West Midlands Crown Prosecution Service Jason Corden-Bowen said she "created a complicated fiction of multiple fake profiles interacting with each other to her own satisfaction and reason".
He said: "She used this sophisticated catfish-style behaviour to completely manipulate the victim's life, dictating when he could go out, where he could go and controlled his social interaction with other people for over two years."
Adderley, of Sundorne Crescent, was in a "brief" relationship with the stalking victim, during which time she said she was the victim of a sex offence earlier in her life.
She agreed to report it to police, providing the stalking victim would act as a witness and give a supporting statement to police.
Adderley also set up a number of fake social media and email accounts for other witnesses whom she claimed had made statements.
She used all of the accounts to manipulate the stalking victim "into doing what she wanted under threat of financial and social 'sanctions' from the fake officers", the CPS said.
The victim realised the email accounts were not secure when he referred the matter to a colleague at work.
Adderley was jailed at Shrewsbury Crown Court.