Fatal Legionnaires' outbreak at Ludlow hotel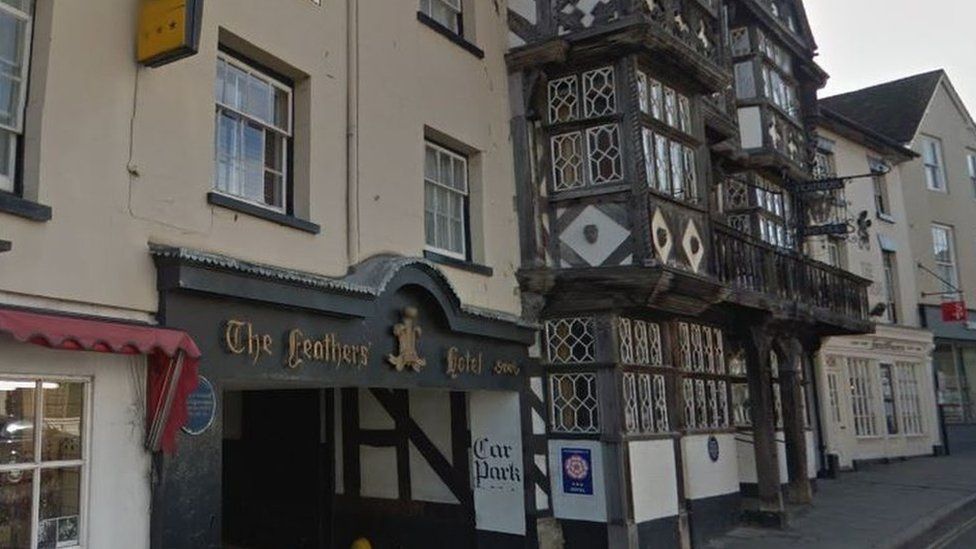 A hotel guest has died after contracting Legionnaires' disease and another fell ill following a stay at the same place, it has been revealed.
The Feathers Hotel, in Ludlow, Shropshire, has voluntarily closed to the public on advice of health bosses.
Tests showed links between legionella bacteria found in water samples from the hotel and the two guests, Public Health England said.
Both guests were from Merseyside, the first of whom has since recovered.
The first case was diagnosed in April this year.
"Sadly, the most recently diagnosed individual, who stayed at the hotel in July, has died," a statement said.
The deceased was a woman in her 60s. She is understood to have died in mid-August.
The other guest was a woman in her 70s who recovered after being diagnosed in April.
The hotel is writing to guests who stayed at the hotel in the past two weeks to advise them to make contact if they have experienced any symptoms of the disease after potentially fatal legionella bacteria was in water samples taken from the site.
Dr David Kirrage, consultant with PHE West Midlands Health Protection Team, said as soon as soon as the legionella bacteria was identified, the hotel's affected rooms were closed, the water system disinfected and heating contractors employed to look at the boilers and pipework.
At the time of the April case, water testing at the hotel took place and two tests came back positive.
An improvement notice was issued and the hotel carried out the improvement work. Subsequent tests were negative suggesting that the problem was intermittent.
"However, results from PHE laboratories on Monday 11 September 2017 confirmed that the strain of legionella located in the hotel is indistinguishable from the samples taken from the two cases.
"Extensive work is now needed to overhaul and treat the plumbing in such an old building, so that guests can fully enjoy the facilities."
The hotel will remain closed while the work is carried out.
A potentially fatal lung infection caused by legionella bacteria
It is not contagious and cannot be spread directly from person-to-person
It is caught by breathing in small droplets of contaminated water
Initial symptoms include a high fever and muscle pain
It is treated by intravenous antibiotics
Legionella bacteria are commonly found in sources of water, such as rivers and lakes, which sometimes find their way into artificial water supply systems
NHS advice is that large buildings such as hotels, hospitals and office blocks are more vulnerable to legionella contamination because they have larger, more complex water supply systems and the bacteria can quickly spread
Legionnaires' disease is three times more common in men than women and mostly affects people aged over 50
An estimated 10% of people who contract the disease will die from complications arising from infection
Related Internet Links
The BBC is not responsible for the content of external sites.