Men-in-nurse-uniform cash redirected after Ludlow Hospital rejected money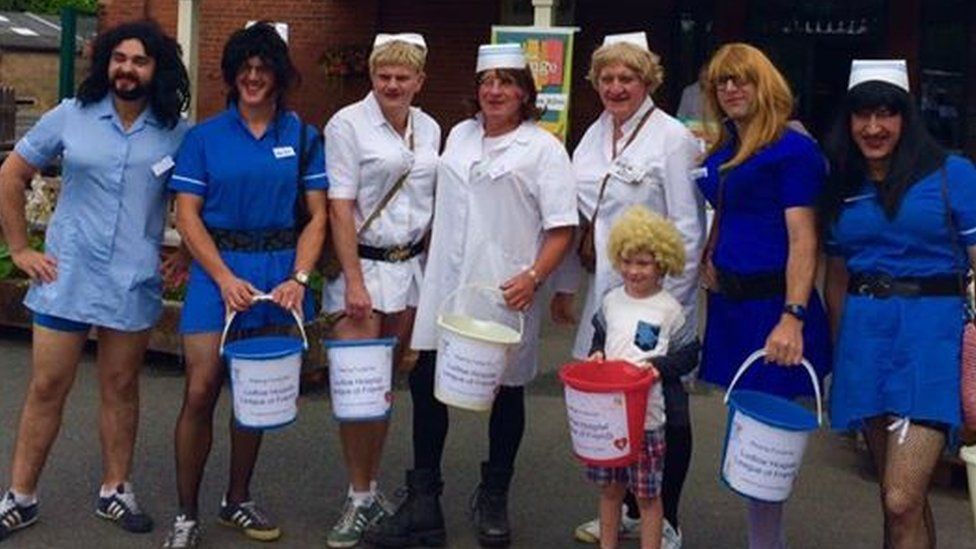 A £2,500 donation from men dressed as nurses that was turned down by a hospital is to be used to train community first responders.
The men raised money for Ludlow Hospital in Shropshire by pushing a bed around the town.
The hospital said the outfits were "demeaning" and refused the money.
The hospital's league of friends said "a lot of people would run round the streets naked if they thought we could get our hospital properly funded".
League of Friends chairman Peter Corfield said: "We must draw the line between what is insulting to people and what is actually attracting attention to the good cause... Looking at the reaction we've had from around the world, I don't think we're out of step."
Mr Corfield said the league was looking "for something that would produce a long-term local benefit" and it discovered two new community first responders were about to start training.
Community first responders are "volunteers and have to fund their own equipment," he said.
Previously, Jan Ditheridge, chief executive of Shropshire Community Health NHS Trust, said: "The presentation of men dressed as female nurses in a highly-sexualised and demeaning way is wrong, very outdated and insulting to the profession.
"We have previously asked that this doesn't happen and therefore don't think it's right to accept any money associated with this activity."
Related Internet Links
The BBC is not responsible for the content of external sites.