Burst water pipe affects Shropshire homes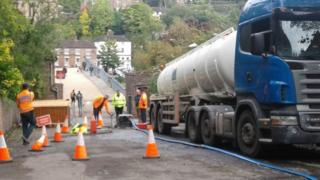 A water pipe measuring about 21ins (53cms) has burst leaving thousands of homes without water, Severn Trent said.
The company confirmed one of their "biggest" pipes had burst at about 04:00 BST affecting supplies across Telford.
It said customers in the TF7, TF3, TF4 and TF8 area would be affected.
The pipe is "very deep underground" and the water supplier said it needed to cut back the trees before it could start making the repairs.
It said that a nearby high pressure gas main was also causing delays with the repair.
Telford and Wrekin Council said on Twitter, it was handing out bottled water at two different sites.
Severn Trent said it had been able to restore water to about 5,000 customers and was using a "fleet of 16 tankers to inject water directly into our network".
Areas of Shifnal are also affected by "murky water".