Papal seal from 1400s dug up in Shropshire field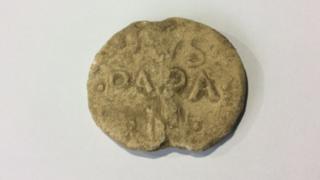 A 15th century papal seal has been discovered in a field in Shropshire.
The lead seal, found on Saturday by a group of American metal detector enthusiasts, was discovered in Oswestry.
It is thought to be the second seal from this era found in the UK.
The holidaying metal detectorists also found a French coin from the reign of Henry II and a Roman pin, thought to be from an ancient manicure set.
See more Shropshire stories here
The seal, about the size of a 50p piece, is engraved with "PIVS" linking it to the reign of Pope Pius II who was pope from 1458-1464.
It is thought to have been made between 1458 and 1464 and would have been used to stamp documents known as papal bulls.
Chris Langston, who arranged the metal detecting holiday, said with a papal seal a person "could literally probably get away with murder" as it acted as a 15th century "get out of jail free card".
It was found by Tim Saylor, who works with National Geographic and who said it was his "best find ever".
Mr Langston said whilst finds like this are rare, there's always something waiting to be unearthed in the area.
He puts it down to Shropshire's location on the Welsh border, a long fought-over border, and particularly Oswestry which marks a key trading point between north and mid-Wales.
Although the future of the seal is yet to be decided, Mr Langston hopes it will be bought by a local museum.