Eloise Parry: Trio accused of lethal diet pill supply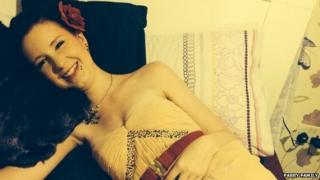 Three people accused of killing a 21-year-old woman by supplying her with potentially lethal diet pills will go on trial next year.
Eloise Parry, from Shrewsbury, who was studying at Glyndwr University, Wales, died after she took tablets containing an industrial chemical called DNP.
Albert Huynh, 32, Bernard Rebelo, 30, and Mary Roberts, 32, all from London, are charged with manslaughter.
They are due to be tried at the Old Bailey in April.
Midlands Live: Mistakes that sank a murder case; man charged with murdering wife
The trio are also charged with supplying an "unsafe" food supplement containing DNP between 24 February 2014 and 24 February 2016.
Mr Rebelo, from Beckton, denied the charges against him. Mr Huynh, from Northolt, and Ms Roberts, from Southall, were not asked to enter pleas.
Ms Roberts faces a further charge of money laundering for allegedly transferring £20,000 on behalf of Mr Rebelo.
All three defendants were granted conditional bail ahead of the eight-week trial, due to start on 30 April.
Ms Parry died on 12 April 2015 at the Royal Shrewsbury Hospital in Shropshire.
What is DNP?
2,4-dinitrophenol or DNP is highly toxic and is not intended for human consumption
An industrial chemical, it is sold illegally in diet pills as a fat-burning substance
Users experience a metabolism boost, leading to weight loss, but taking even a few tablets can be fatal
Signs of acute poisoning include nausea, vomiting, restlessness, flushed skin, sweating, dizziness, headaches, rapid respiration and irregular heartbeat
Consuming lower amounts over longer periods could lead to cataracts and skin lesions and impact on the heart, blood and nervous system
Experts say buying drugs online is risky as medicines may be fake, out of date or extremely harmful
The sale of DNP is the subject of an ongoing investigation involving police, Interpol and the Food Standards Agency