Olivia Reeves: Thousands campaign to extend killer's sentence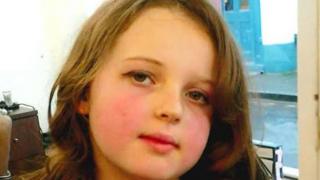 A petition campaigning for a drink driver who killed an 11-year-old girl to be jailed for longer amassed 4,000 signatures within a day of its launch.
Olivia Reeves, of Shrewsbury, was killed when she was hit by a car driven by Roger Goodall, 77, on 15 June after he had been drinking in a lay-by.
Goodall was sentenced to four-and-a-half years in prison for causing death by dangerous driving.
Family friend Tracey Morgan said the term was an "insult".
Midlands Live: "Hero" can driver chased "rampaging" runaway bus; drink driver caught by own dashcam
Goodall, from The Mount, Shrewsbury, had bought six bottles of wine from a supermarket before his car veered over to the wrong side of Mytton Oak Road and mounted the pavement.
Ms Morgan launched her petition to the attorney general on Thursday and it has already received more than 4,000 signatures.
She said a previous appeal to review Goodall's sentence had been unsuccessful.
"A four-and-a-half year sentence is an insult for taking a child's life," she said, adding it was "a kick in the face of justice for [Olivia's] family."
"Olivia's family have been torn apart, this young, beautiful girl would still be with us, if it wasn't for the selfish and negligent actions of Goodall."