Shropshire diversion adds 34 miles to drivers' journeys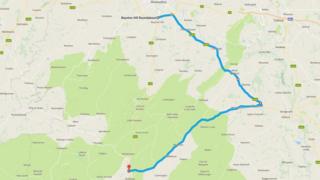 A 34-mile diversion route for lorry drivers due to road repairs is "longer than ideal", Highways England has said.
Repairs to the A49 near Shrewsbury in Shropshire are due to begin on Monday and continue until 20 January 2018.
A shorter diversion for non-HGV traffic will be in place, but due to road suitability larger vehicles will follow a diversion of about 34 miles (55 km) to return to the A road at Craven Arms.
Highways England said the route will "keep disruption to a minimum".
Midlands Live: Murder inquiry after man dies in hospital following firework attack; policeman charged with raping 13-year-old girl
The diversion may add at least 50 minutes to journey times.
The work will see street lighting upgraded with repairs and replacement of columns, cables, and lanterns from the A5 Dobbies Island to just south of the Condover junction.
It will be carried out overnight, from 20:00 to 06:00 Monday to Friday. From 4 December this will involve a total road closure, but before then temporary lane closures will be in place.
'Time is money'
A Highways England spokesman said: "All diversion routes are agreed in advance with the local authority to keep disruption to a minimum. In addition, we're doing the work overnight while the road is at its quietest."
"Anything that takes longer has an impact on delivery times and the cost of the job. or hauliers, time really is money," a spokesman from the Road Haulage Association said.
"The good news is that hauliers have time to come up with alternative routes."
A shorter diversion for non-HGV traffic will also be in place.