ITV Exposure Our Kids in Care programme prompts inquiry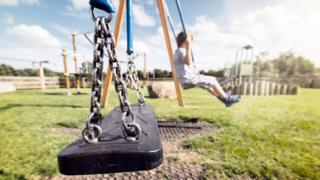 A probe into the running of children's homes has begun after a TV documentary claimed to have exposed failings.
Shropshire Council is holding a safeguarding inquiry after ITV Exposure programme Undercover: Our Kids in Care.
Two reporters went to privately-owned homes in the county run by Cambian and Keys Group and claimed to find understaffing and inadequate training.
Cambian said children in its care were safe and looked after. Keys Group said its service was well resourced.
The local authority said it had first become aware of the allegations contained within the documentary on Wednesday, the same day it aired on TV.
Karen Bradshaw, director of children's services, said the council's safeguarding team "will do everything within their power to address these issues as quickly and thoroughly as possible".
In one clip, a 13-year-old boy under the care of Cambian was taken on a day-trip to the seaside and asked to order cod and chips from an adult menu.
But his carers can be heard telling him he had to select an option from the children's menu, which was for 12-year-olds and under.
Wes Cuell, former director of services for children and young people at the NSPCC, told the ITV programme: "For children who've experienced emotional harm, mealtimes and food are very important.
"So I find that incomprehensible and seriously harmful to that child, that was basically emotional abuse."
The programme also had an undercover reporter working at a children's home in Shropshire run by Keys Group.
ITV also interviewed a former employee of the company.
The care worker, who did not want to be identified and no longer works for Keys Group, told ITV: "The company, for them the focus was absolutely money. Only interested in profit, nothing else counted.
"Not the state of the staff, not the workload of the staff."
'Act immediately'
Keys Group told ITV: "The comments of this former employee are unbalanced and the service is not underfunded."
It said the service was well resourced and it spent in excess of £385 a week on food and essential items and provided additional funds as a contingency.
In a statement, Cambian told the BBC: "The undercover journalist filmed some of the most vulnerable children in society for a period of six months.
"It is inevitable that in this time period he would witness some instances of behaviour that, when taken out of context, are troubling for the viewer to witness.
"We are satisfied that the children in our care were safe and being looked after appropriately.
"The care of our children is at the heart of everything that we stand for. There are some specific concerns raised by the programme that will be addressed, that include staff training, and we will act on these immediately."