Iron Bridge wrapped up for Christmas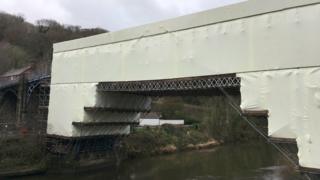 The Iron Bridge in Shropshire has been wrapped up for Christmas while repair work on it continues.
The £3.6m conservation project is English Heritage's largest since becoming independent of government and is due to take another year to finish.
The covers have been put up to protect the structure as the early work focuses on cleaning it.
Engineers working on the project said they were already finding problems caused by previous repair attempts.
Spencer Smith, archaeology officer at the Ironbridge Gorge Museums Trust, tweeted that an earlier attempt to repair faulty ironwork supporting the railings had "failed" and meant the current conservation team knew to avoid the same approach.
Completed in 1779 over the River Severn, the Iron Bridge was the first single span bridge in the world to be made of cast iron. English Heritage described it as a "turning point in British engineering".
However, much of the cast iron has cracked over the years and further damage was done in an earthquake in the 19th Century, which pushed the sides of the gorge closer together.
English Heritage said the apex of the bridge was today 10cm higher than when it was built.