Tributes paid to Shropshire D-Day veteran who died at 97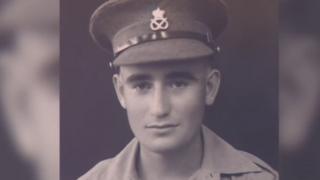 Tributes have been paid to a World War Two hero who helped destroy seven enemy tanks on D-Day.
John William Bray, known as Bill, died on Christmas Day at the age of 97, following a short illness.
Earlier this year, Mr Bray, from Albrighton, Shropshire, was presented with the Légion d'Honneur - France's highest military accolade.
His daughter Heather Lenthall described the great-grandfather as "private and "gentle".
Mrs Lenthall, 67, from Newport in Shropshire, said: "All I can say is that he had a wonderful life."
Mr Bray signed up in 1939 and was a tank driver on Sword Beach on D-Day, June 6 1944.
He was later part of the Allied Forces' crossing of the Rhine in Germany in 1945.
He was presented with the Ordre national de la Légion d'Honneur by Station Commander Tone Baker in a ceremony at RAF Cosford in September.
Albrighton residents also organised a street party in his honour, which representatives from his former regiment the Staffordshire Yeomanry attended.
Mrs Lenthall added: "What the people of Albrighton did for him was wonderful. We are so grateful.
"He loved it, he was like a little celebrity."
The street party was organised by his friend Mandy Medlyn, manager of the Red House in Albrighton.
She said: "He was a sweet, sweet man. We are all really saddened by it."
In a post on Facebook, RAF Cosford said: "We were all saddened to hear of Bill's passing over Christmas and our thoughts are with his family at this time."