Shropshire chef said she 'spiked' vegan meal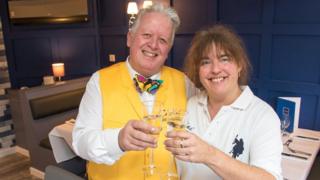 An "ill-judged" Facebook comment in which a chef said she had "spiked" a diner's vegan meal has provoked an angry response from those fearing meat or other non-vegan food had been added.
Shropshire Council said it was investigating complaints about Carlini in Albrighton, Shropshire.
The restaurant denied anything untoward had been included in the food.
Michael Gale, who co-owns the venue said "spiked" was "poorly chosen" language.
Mr Gale, said his fiancée, Laura Goodman, had not "fully realised the consequence of what it meant".
Ms Goodman, also a co-owner of the restaurant, made the comments in a Facebook group called "The Boring Group" in the early hours of Saturday morning.
The post initially mentioned a "pious, judgemental vegan", before Ms Goodman later wrote "spiked a vegan a few hours ago". The comments have since been removed.
People responded to the post telling her that it was "mean" and "disgusting and unacceptable".
Since the post was shared on social media, people have left angry reviews on Google causing the Italian restaurant in Albrighton, which has another branch in Shifnal, Shropshire, to be rated as one-star.
Mr Gale added: "In no way does this excuse the comment and we totally understand the anger it has subsequently caused. No meat was used in any of the dishes."
A spokesperson for the Food Standards Agency said: "People should be confident about the food they buy and be able to choose according to their particular requirements, whether for diet and health or for personal taste and preference reasons.
It added: "The description, advertising or presentation of food must not mislead consumers."
You might also like: