Bridgnorth rapist found thanks to dog attack DNA 25 years later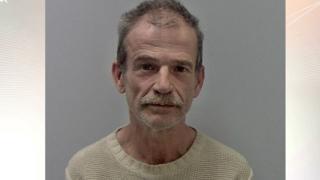 A man has been convicted of a rape that happened 25 years ago, after a police dog was stabbed and his DNA was taken.
German Shepherd Canto was at an address in Bridgnorth, Shropshire, with his handler when he was attacked.
DNA was taken at the scene from Mark John Hemmings, of Tasley Road in the town. It was later linked to a rape in Telford Town Park in February 1993.
The 58-year-old admitted the charge at Shrewsbury Crown Court and will be sentenced on 2 March.
West Mercia Police said the woman, who was 36 at the time, was subjected to a violent rape as she went to work through the park.
She reported the attack to police but no suspect was identified. She has since died.
Following the attack on the police dog on 21 August 2017, a sample of Hemmings' DNA was taken and stored on the national database.
It was tested with up-to-date techniques and was matched to the rape.
Other animal heroes:
Cats to the rescue: When felines turn hero
Stabbed police dog Finn named IFAW 'animal of the year'
Hero dog Mali receives highest award for gallantry
Det Insp Mark Bellamy said: "This was a terrifying and violent ordeal for the victim and I am very sorry that she is not here now to see justice being served.
"I hope her family can take some comfort from the fact that her attacker has finally been caught."
The Crown Prosecution Service said the "key" DNA evidence helped bring the "dangerous sexual predator to justice for a crime which he thought he had got away with".
Canto has been recognised with a PDSA national commendation after recovering from the eight-inch wound he received in the attack on him and has since returned to work.